The eternal seductionof natural stone
Developing the Hi-Thick 1.4. line, the non-slip porcelain tile soft to the touch with high performance and mechanical resistance with a thickness of 14mm, two formats are presented: 32,9×32,9 cm and 44×66 cm.
The 44x66cm porcelain tile collection emulates natural stone with eroded edges, providing character and greater realism. It is composed of natural finishes of great warmth, such as ARLET in its two shades (White and Taupe) and the ARDENNES BEIGE and PORFIDO TERRA series; the collection is completed with a stone in a neutral tone, the HARZ STEEL series.
Sizes and colours
44 x 66 cm | 17" x 26"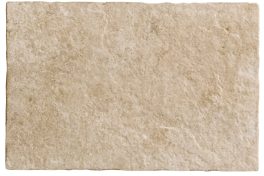 ARDENNES BEIGE
44x66 cm · 17" x 26"
K·75
There are no special pieces available for this collection
product typology
Stone
technical characteristics
Floor tiles

Hi-Thick

Ice-resistant

Indoors

Matte

Outdoors

Porcelain

Smartgrip

Wall tiles

Non-Slip Class III
PACKING
approx gross weight
FORMAT
Pieces / Box
M2/BOX
KG/BOX
Boxes/pallet
M2/pallet
KG/pallet
44 x 66 cm · 17" x 26"
3
0,87
25
48 palet / 21 europalet
41,76 palet / 18,27 europalet
1216 palet / 549 europalet