In this new edition of Cersaie 2019, Realonda presents its new porcelain collections adapted to the new demands of architecture and current design. The amazing Reliefs 2.0 stand out, much more marked reliefs with an important height thanks to an advanced manufacturing system; In addition to the new formats and original shapes with natural textures or striking colors.
All of them designed to inspire and give personality to countless spaces. Realonda passion for innovation has led to the development of much more pronounced new reliefs in the new 21x63cm porcelain size, the MARLSTONE and IGUAZU series, bringing character and greater realism to the ceramic wall tiles
The MARLSTONE series, a wall tile that simulates a facade of large stones with character and strength thanks to the pronounced irregularities of its relief, is available in three colours (Steel, Nature, Ivory) The IGUAZU series in four colours (Gray, Charcoal, Sand and Terra), combines a soft base in natural stone texture and a decorative wall tile imitation of handmade laminated stone, its prominent relief brings personality to the coating with all the naturalness of the stone.
Continuing with the new 21x63cm size in porcelain, Realonda presents the new PIETRA series, inspired by a subtle slate texture with metallic finishes (Zinc, Cooper and Iron). With these new three aged metal finishes, there are also two new volumetric coatings that simulate the small format: TIN TILE and ECLIPSE , which can be combined with the Pietra series.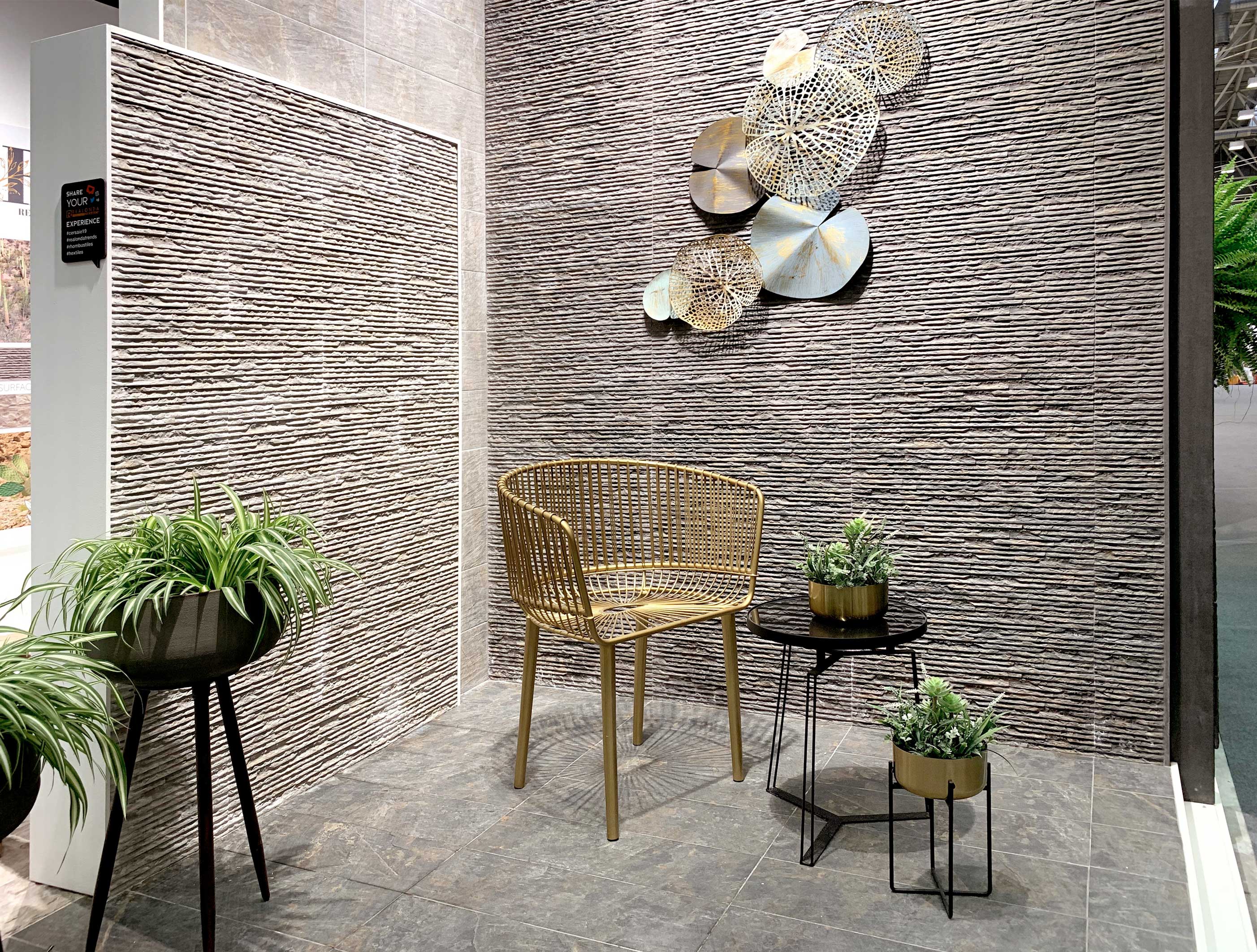 Iguazu Wall Grey & Iguazu Grey · 21x63cm
The ECLIPSE, a geometric semicircle, in 33x33cm porcelain (with 15x15cm precut) and the TIN TILE, a floral decoration, in 44x44cm porcelain (with 22x22cm precut), integrate lightand shadow to create live surfaces that change depending on the conditions of light.
Available in black and white monocolors (TIN TILES Black, Pearl, ECLIPSE Black, White) and in the striking colour ECLIPSE TURQUOISE thanks to the application of the latest generation reactive granules.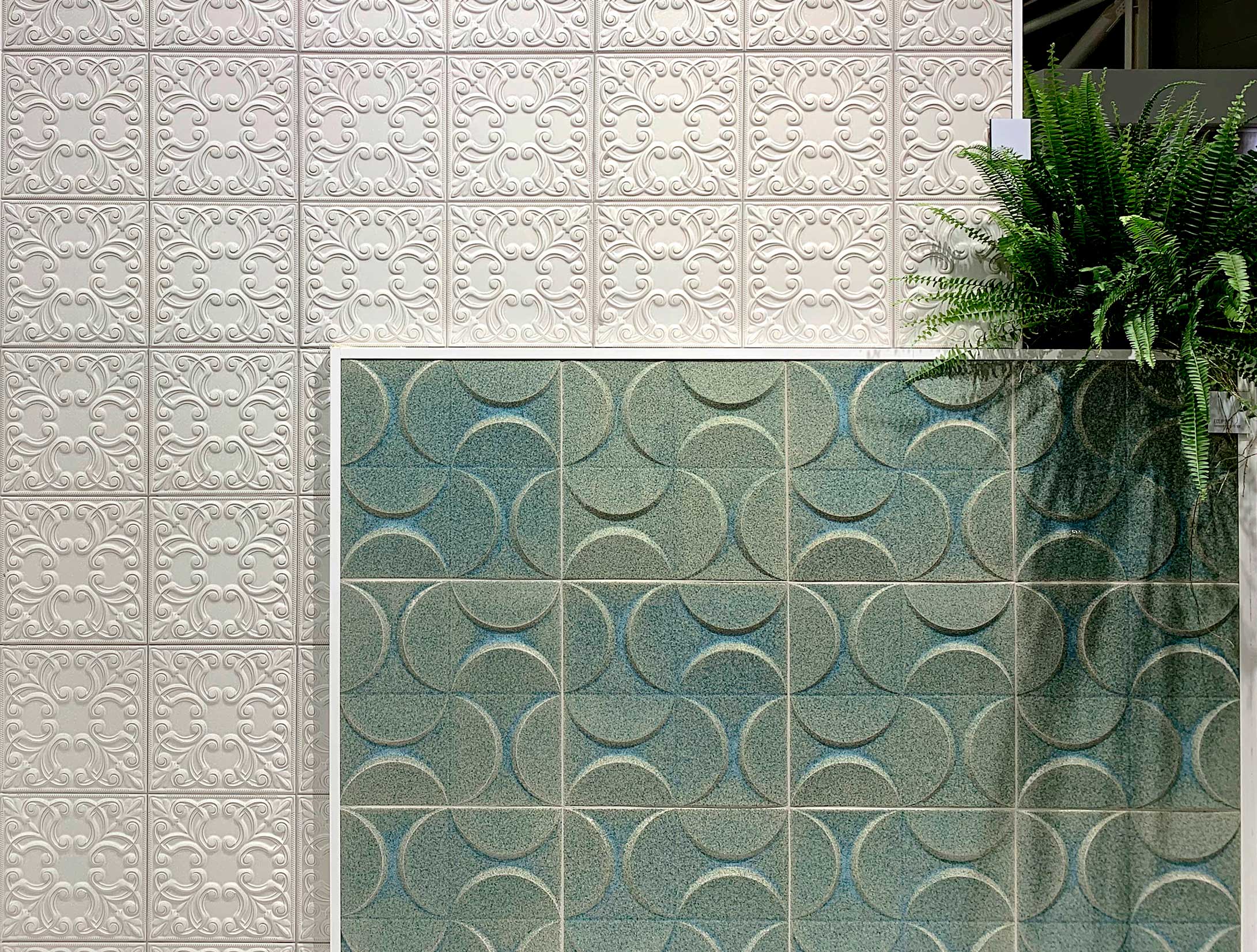 Tin Tile Pearl · 44x44cm & Eclipse Tourquoise · 33x33cm
Realonda SA also proposes other new reliefs that highlight for their small format and originality: The new CIRCLE relief has the whole identity of the traditional mosaic in a 30,9×30,9 cm size, is presented in a wide range of finishes; also thanks to its characteristic relief and following the most innovative manufacturing techniques allows a total grouting, losing the limits of the piece. It is available in three colours of gloss (Glossy White, Glossy Gray and Pearl), two matt (Black and White), one metallic (Metal) and one with graphic decoration (Collage).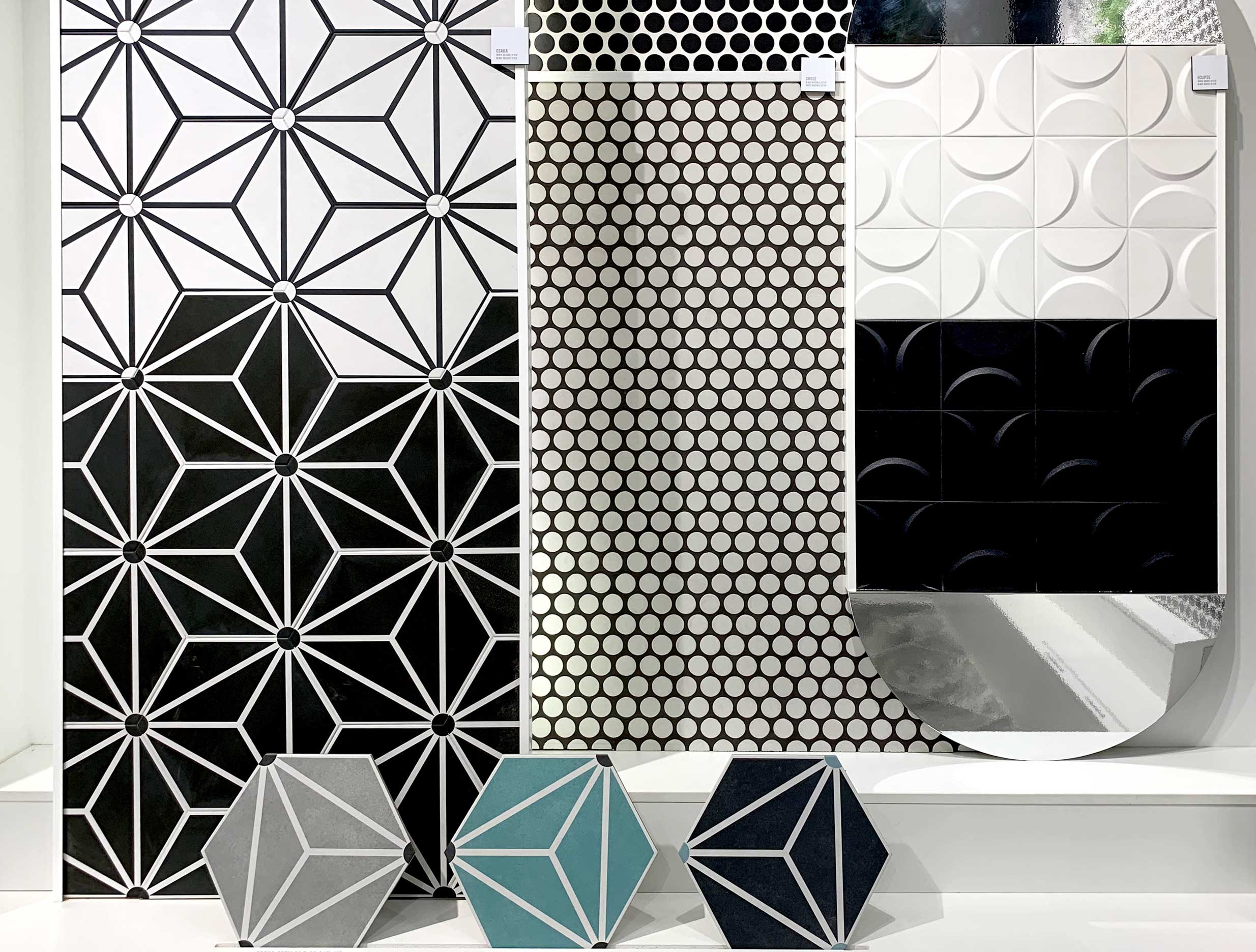 Osaka Serie · 28,5x33cm | Circle White & Circle Black · 30,9×30,9 | Eclipse White & Eclipse Black · 33x33cm
With the peculiar charm of the small hexagonal HEX size, 26.5x51cm, it offers two elegant tones (Black and Snow). Also on this format, the new RHOMBUS, relief of small rhombuses whose varied personality is a decorative plus for any space. They are presented in more
natural finishes with RHOMBUS VENATO marble and RHOMBUS STONE stone in two colours (Gray, Taupe), also with the colorful and detoned Color, Blue, Gray and Emerald; and finally with the elegant monocolors White and Black.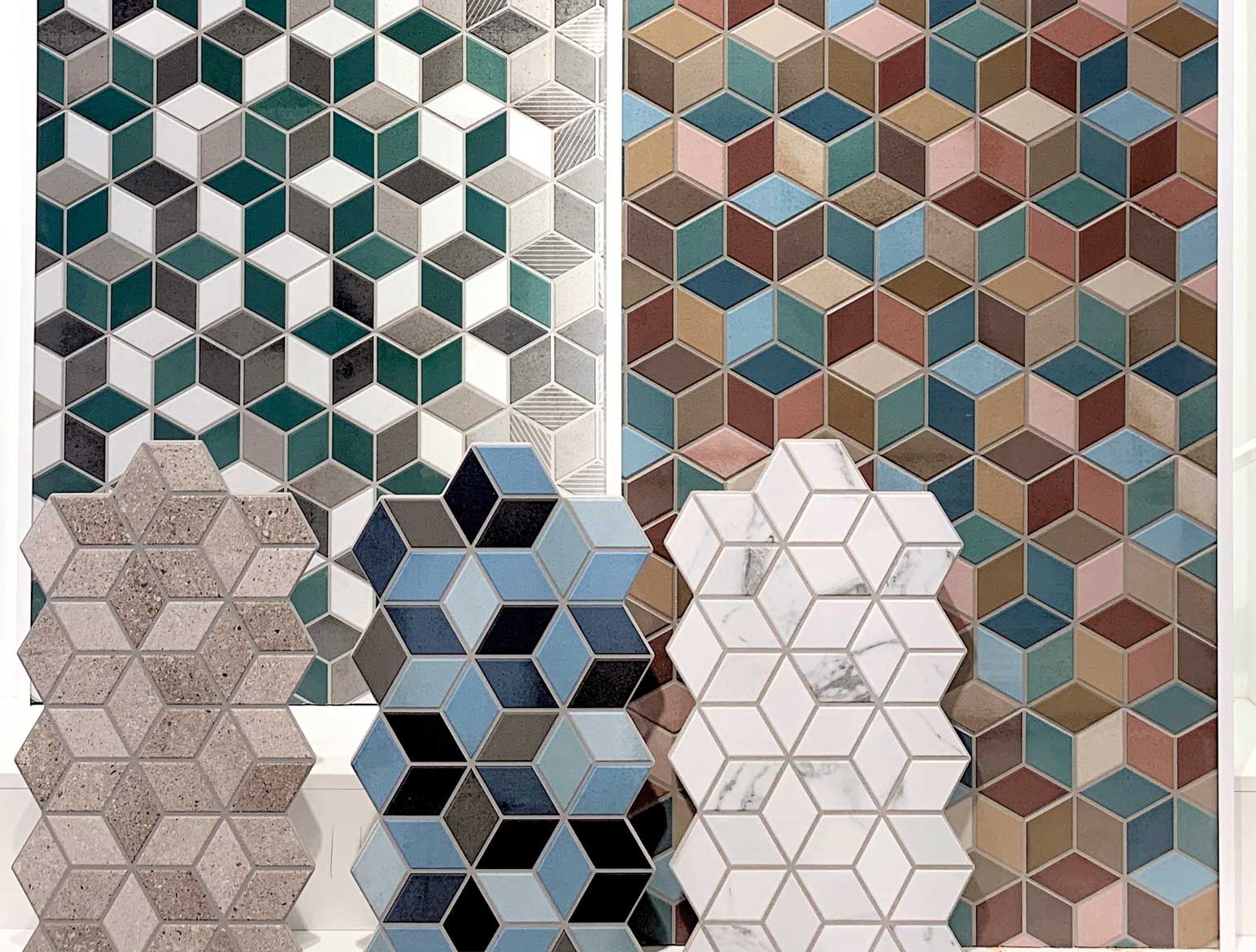 Rhombus Emerald · Rhombus Colour · Rhombus Stone Taupe · Rhombus Blue · Rhombus venato · 26,5x51cm
Inspired by the classic ceramic lattices, the DAKHLA, porcelain, combines the soft texture of natural terracotta with the traditional decorations reminding of the lattices. It includes the base 31x56cm, in two colours (Terracotta and Arena) and two decorative pieces for each base: with matte-metal contrasts ( DECO TERRACOTTA, DECO ARENA ) and in green and blue tones ( DECO AZRE , DECO AQUA ), thanks to the innovative application of granules.
To complete the collection, these tonalities and finished are presented also on the new circular relief 33x31cm AZURE CIRCLE and AQUA CIRCLE that can mix with the new  ZELLIGE 33x33cm series with precut, available in three colours with gloss finish (Azure, Aqua, Pearl)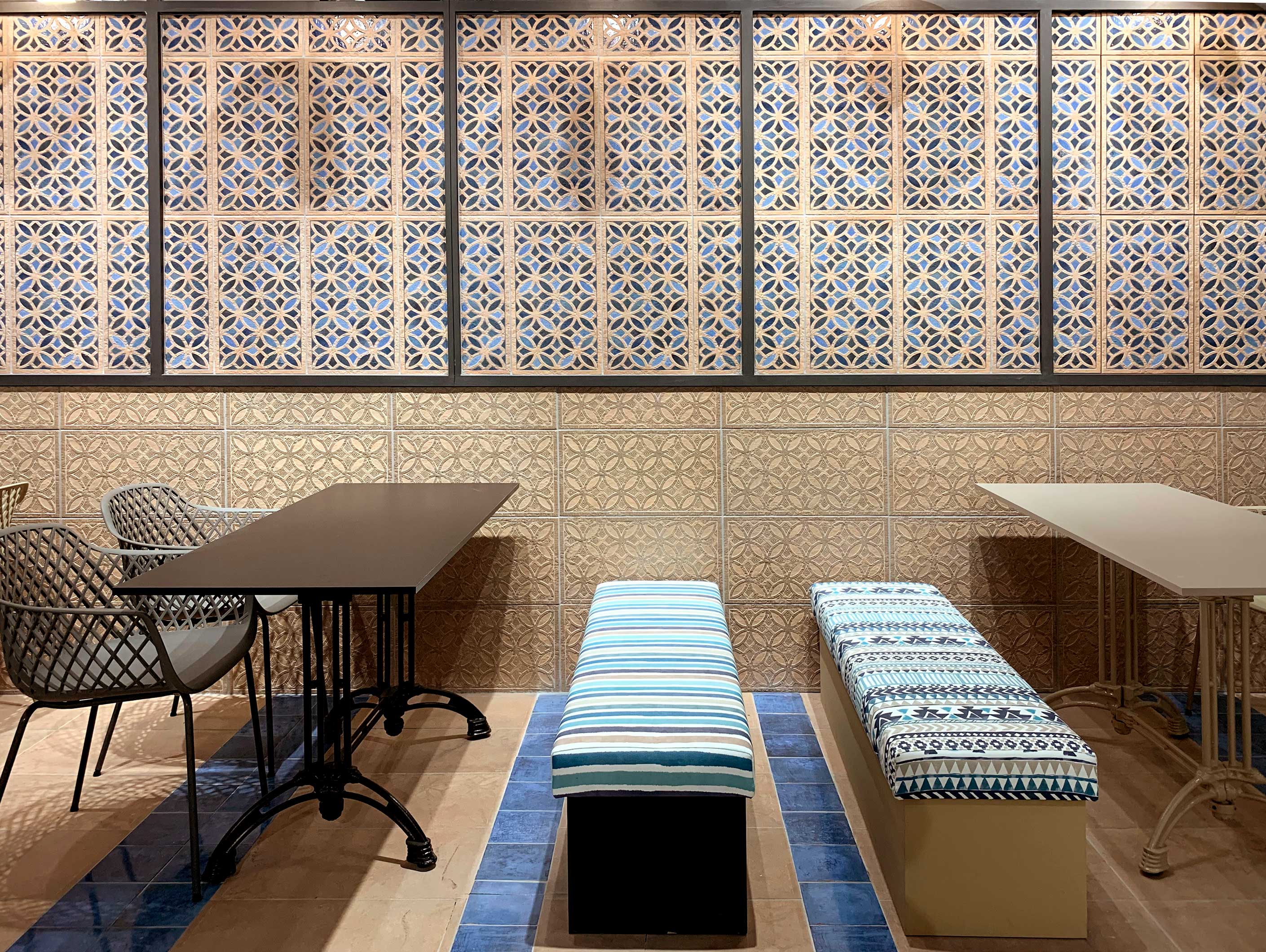 Dakhla Terracotta · Dakhla Deco Azure · 31x56cm | Zellige Azure · 33x33cm
It is remarkable the new size 40×120 cm rectified porcelain, which will be the basis to create a harmonic mix joining shapes, textures and volumes in each collection, creating an original Mix & Match. These collections are presented in two natural textures:
The CALACATTA GOLD collection, is an elegant marble in which its marked golden veins that shows different shades and gradations of color. This comes on several volumes and shapes: the new format 40x120cm rectified porcelain, and, as decorative pieces, the volume
in 33x33cm with precut, ECLIPSE, the hexagon in 28,5x33cm, HEXAGON, and the new circular mosaic in 30,9×30,9cm, CIRCLE. This series is available with a non-slip finish, thanks to this property it is ideal for use as a safer and more stable floor tile
The SEQUOIA collection, an upcycled wood texture, (Camel, Tobacco, Gray and White), is shown in different formats and reliefs. The base, on rectified porcelain 40×120 cm, is inspired by the warmth of the Nordic style with thin and irregular wood strips, its decoration is accompanied by small size hexagons (26,5x51cm), and a mosaic in 33x33cm.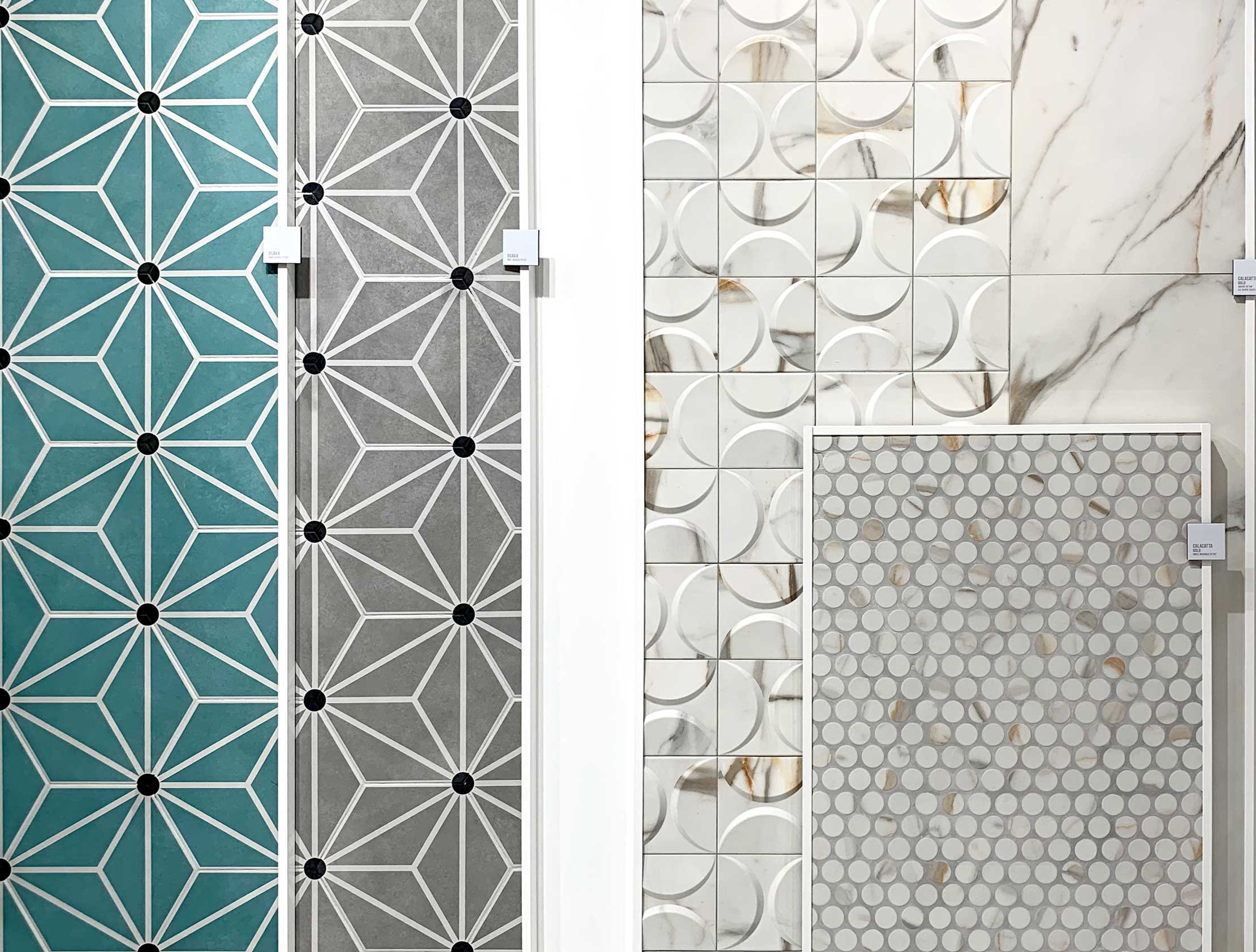 Osaka Aqua & Osaka Grey · 28,5x33cm | Calacatta Gold Wclipse 33x33cm · Calacatta Gold 40×120 · Calacatta Gold Circle 30,9×30,9cm
The 28,5x33cm hexagonal size on porcelain is completed with the OSAKA series, a graphic decoration inspired by the traditional concrete tiles, is available in five colours (Black, White, Gray, Water and Charcoal).
Extending its offer of the Modular range, Realonda presents three more series betting on the naturalness of marble, MODULAR BARDIGLIO, MODULAR VENATO and MODULAR DARK MARBLE , conceived to generate warm and harmonic spaces playing with the possibilities of placement they offer.
For more information DOWNLOAD CATALOG OF NOVELTIES CERSAIE 2019